Name it ... and blame them!
NEWSLETTER
Sign up here for a fortnightly newsletter
Encouragements
Here's what some of you said about us: Saffron is unique as it is faithful to the word and is a laugh as well. I feel I almost know you all ! ... Just to congratulate you on the website , its a rare thing to achieve being sound doctrinely and cool at the same time! ... Great stuff guys ... Love in him and best wishes to all at Saffron - will listen in to the daily word. Brightens my day to have Christian contact - I like your very normal, down to earth and real approach ... I bookmarked your site, need to make it my home page ... the young ones need folk with an 'edge' ... Well done, it's impressive and sounds good!
"Good conversation on thought-provoking subjects. Leaves you looking forward to the next instalment…". (Ken Hancock, Northsound 2 Radio)

Awards galore

Surely not
another award!?
'fraid so! Saffron
Planet has been "Highly
Commended" at this year's
Christian Broadcasting Council
(CBC) 2008 award ceremony
in the Christian website /
podcast category! Hurrah!

Partially what the Net's for
– jumping on the soap box
and giving it some. This
takes effort ... Raw,
opinionated and interesting
at times ... Saffron Planet has
a decent amount of content
and I can see it surviving
where many others have
fallen. It has its place and
deserves credit.




Yes we did it!
Saffron Planet
has been
voted 'People's Choice' - the
UK's favourite
Christian website in 2008.




A video of us
receiving the
award


Who are we?
Saffron Planet are three families and their friends chatting and eating and believing there's more to this life than having fun, though fun is also important, as is serious discussion and not so serious discussion. Saffron Planet believes ...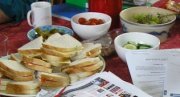 Live Map