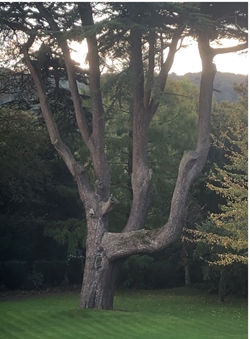 Where do we start? So much happened that week, much of it yet untold, or yet to be revealed, The scene was set when we noticed the shape of the tree in the hotel garden. We called it the 'Shin tree' because of its resemblance to that particular Hebrew letter, perhaps the clearest indicator of God's covering over us. Here is one story from the conference that can be told. It is from a lady for whom this was her second Foundations:
"With the theme of Holiness, I asked the Lord on my first day "why am I here?" The reply was very clear - "I want to put My arms around you and love you"! But it was not long before I discovered that fatherly love includes discipline.
I felt convicted that I was trying to remove a speck from my husbands eye while having a beam in my own called 'self righteousness'. I sought help in praying a prayer of repentance which led on to me being totally freed from past hurts in my marriage. I experienced a wonderful release and new found love not just for my husband but for others and even myself! (CLICK HERE FOR FULL ARTICLE)
CLICK HERE FOR THE AUDIO RECORDINGS FOR FOUNDATIONS 12
WERE YOU THERE? DO YOU HAVE ANY VIDEOS OR PHOTOS? DO SEND THEM IN AND WE WILL ADD THEM TO THIS PAGE. WHAT ABOUT COMMENTS OR TESTIMONIES? EITHER ADD THEM BELOW OR EMAIL THEM TO US.