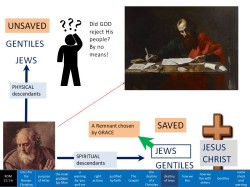 Do we have something for you - a new way of reading the Bible, starting with the Book of Romans - and it's free! CLICK HERE to find out more.
---
FOUNDATIONS LIVE WEB BIBLE SCHOOL
This is a FREE web event every MONDAY at 7pm - 8:30pm (GMT). Teaching by Steve Maltz. If this interests you, click here. (Audios of past sessions available) SUMMER TERM FINISHED ... BUT HAS IT?!
ASK THE TEACHER
*** NEW FEATURE ***
Current questions answered: How does the pre-millenial position score over the a-millenial one? Please explain Leviticus 22:10 ? When will the rapture be? Pre, Mid or Post-trib? What did the Jews do in the 1800s to warrant God returning them to the land? Should gentiles celebrate the feasts of Israel? Why? Can the lost tribes of Israel still be identified? Israel was initially deemed a 'socialist dream' with its kibbutz system etc. Now it is deemed a 'Nazi state' by the same people. Why?